Philip Magee is a native of Swords, Co. Dublin, who has been working as a Music Producer and Recording Engineer for the past 11 years. From an early age, Philip was always passionate about music and being a musician, and possessed a deep fascination with recording.
"I was constantly recording audio with VHS recorders and Dictaphones as a child, and trying to make a multi-track recorder", remembers Philip.
This passion for all things musical led him to enroll on a City & Guild's course in Sound Engineering & Music Technology at Sound Training College in 2002. He hasn't looked back since.
After completing his studies, Philip went on to become the House Engineer at Chili Studios in Phibsboro, where he recorded and produced artists such as Brian McFadden, Sisqo, Samantha Mumba and Delta Goodrem. Following this success, he began to get a lot of requests to do freelance work in other studios for bands like The Script and 21 Demands (now Kodaline). He moved on from Chili Studios a few years later to pursue more freelance work, and continues to work freelance to this day.
We recently got in touch with Philip to ask him some questions about his experiences of working in the music industry and his time at STC.
---
Can you give us an example of some of the projects you've worked on?
I've worked with Kodaline, The Script, Miles Kane, Delta Goodrem, Declan O'Rourke, Aslan and many more.
Could you give us an example of your typical working day/workflow?
My workday changes a lot as you can imagine, from doing 14-hour days at residential studios to editing and mixing on my own. I also regularly go and meet bands and artists, for pre-production and song writing in their own environment.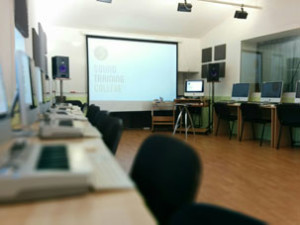 Have you got an amusing story from your time working in the industry?
The great thing about this job is that everyday you're with an artist, it's really good fun. The artist is doing something they love and you're doing something you love, so it's conducive to having fun days. When we were recording Kodaline's last album, we were up in Transmission Studios in Longford, and the weather was fantastic. We ended up having a massive water fight that lasted two solid days. As an adult, there are very few jobs where can you do that!
Who are the best clients that you have worked with, and why?
Every artist and group you work with have different sets of talents and personality that they bring to the studio; you get to form a very close bond with them, so I would find it quite hard to say who the best clients are.
It's perceived to be a very exciting industry to work in, would you agree?
The industry is as exciting as you want it to be! It 's quite polarising from editing on your kitchen table to recording huge bands in LA.
What did you like most about STC?
The advice on-tap from great lecturers and the hands on studio experience I gained. It was very beneficial being left alone in a commercial studio; learning from what I was taught, and putting it into practice was cool.
Would you recommend Sound Training College to people who are thinking of attending a course in Sound Engineering / Music Technology, and why?
Yes I would, STC has a great infrastructure, from learning in the classroom to working in a commercial studio, it all happens in the one location.
How did Sound Training College help you in your career after you graduated?
STC really helped me in my career, from the basics I was able to walk into any commercial studio and know my way around their console, due to being trained on an SSL, Neve, DDA & O2R; this was great.
What advice would you give to someone who's thinking of pursuing a career in the music industry?
The industry is very tough, but don't let that stop you. The harder you work the luckier you will get! Also, follow your ears, as it's very easy to make good musicians sound good.