Sound Training Productions
Details
Sound Training Productions is home to Ireland's first and only Avid S6 Digital Desk, 2 studios, live room, isolated drum booth, mixing suite and a range of fully equipped pods to suit all needs.
Studio One
Avid S6 Console
Avid Pre-amps x 4
32GB quad core Mac pro
Digidesign 192 x 3
Monitors
Genelec 1031A x2
Genelec 7070 Subwoofer
XMON monitoring system
Furman HR-6 headphone system
Outboard
SSl Master Bus Compressor
Amek 9098 compressor/limiter
Drawmer DL25 Spectral Compressor
SPL Transient Designer
Empirical Labs Distressor x 2
Amek 9098 Eq
Universal Audio 1176
TLA C-1 Dual Valve Compressor
t.c electronic M5000
Ensoniq DP4+
Studio Two
Audient ASP 8024 Analog Console
32GB 6 core Mac Pro
Digidesign 192 x 2
Isolated Drum Booth
Monitors
Dynaudio BM15 Monitors
Dynaudio BM9S Subwoofer
ART Head Amp 6
Outboard
Focusrite Focus EQ
BSS Compressor
Symetrix 425
Presonus ACP88
Drawmer DS201 Dual Gate x2
Yamaha Rev 7
Presonus Eureaka Preamp x 2
Klark Teknik Square 1 Compressor/Gate x 8
Microphones
AKG C1000s x4
AKG C12 x1
AKG C214 x2
AKG C3000 x3
AKG C451 x4
AKG D12 VR x1
AKG D112 x5
AKG D40 x4
AKG SolidTube x2
Audio Technica AT2020 x4
Audio Technica AT4033 x2
Audio Technica AT4040 x2
Audix D2 w/ clip x2
Audix D4 w/ clip x1
Audix D6 x1
Audix i5 x1
Beyerdynamic M88 x1
Coles Ribbon x2
Measurement Microphone x1
Neumann KM 184 x5
Neumann KMR 81 x1
Neumann KMR 82 x1
Neumann M147 x1
Neumann M149 x1
Neumann KMS 105 x1
Neumann TLM103 x2
Neumann TLM193 x2
Neumann U87 x2
Neumann U87Ai x1
Reslo 121 x1
Royer Ribbon x1
Rode NT1A x2
Rode NT2A x2
Rode NT5 x2
Sennheiser MD409 x1
Sennheiser MD504 x1
Sennheiser MKH416 x1
Sennheiser K3U x2
Sennheiser E604 x7
Sennheiser E902 x2
Sennheiser ME62/K6 x2
Sennheiser MD421 x9
Sennheiser ME65/K6 x2
Shure Beta 52A x1
Shure Beta 57A x2
Shure Beta 56A x1
Shure Beta 58A x1
Shure SM57 x15
Shure SM58 x4
Shure SM7B x1
t.bone RB500 x4
Yamaha NS10 Cone x2
Backline
Marshall AVT 50H Head x1
Marshall JCM 800 Head x1
Marshall MC412A 100 watt cab x1
Marshall JVM210C Combo x1
Marshall Vintage Mod 100 watt 4x12 x1
Orange CR120 Head x2
Orange PPC212-COB Cabinet x2
Orange Crush 100BXT Bass Combo x1
Marshall MB4410 Bass Combo x1
Fender Princeton 650 Combo x1
Fender Rumble 100 Bass Combo x1
Roland Jazz Chorus x1
Vox AC10 x1
Vox AC30 x1
Roland SH101 Synthesizer x1
Yamaha DX7 Keyboard x1
Roland JP8000 Synthesizer x1
Yamaha CS1 keyboard x1
Mapex Mars 5 piece Drumkit x1
Mapex Armory 6 piece Drumkit x1
Yamaha Birch Custom Absolute Drumkit x1
PDP M5 5 piece Drumkit x1
Sabian B8X Cymbals
Sun Recording Studios
Details
Sun Studios features a 40 channel SSL G Series console and Automation. Sun live rooms have recently undergone major surgery, with a new vocal booth, a dead room and 2 amp booths, added to a now larger main live room. Perfect for tracking live but keeping much desired separation when recording.
The studio runs both Pro Tools HD and Logic Pro, with the option of using the Otari MTR-90 24 track analogue tape recorder.
Console
SSL 4000 G Series with Total Recall and Automation
Microphones
Neuman M149
Neuman U87 x 2
Neuman TLM 103 x 3
Neuman KM184 x 4
Neuman TLM 193
Coles 4038 (matched pair)
Audio Technica 4040SM x 2
AKG 414 x 2
AKG Solid Tube x 2
AKG D112 x2
AKG C12
Sennheisser 421 x 4
Sennheisser e604 x 4
Sennheisser K6 x 2
Bruel & Kjaer 4011
Royer R 121
Reslo Ribbon Mic
Shure SM57 x5
Beta 57 x2
Shure SM58 x5
Shure Beta 58
Shure Beta 52 x2
Shure Beta 91
Beyer Dynamic m69
Other Hardware
Outboard
12 Neve Mic Pre/Eqs 1D005
TLA Ivory Series Valve Pre's x4
Urei 1178 Stereo Compressor
Empirical Labs Distressor x 2
Chandler TG 1 EMI Stereo Compressor
Focusrite Red Stereo Compressor limiter
Tube-Tech LCA2B Stereo Compressor
SPL Transient Designer 4 channel
Neve 8803 EQ
Amek 9098 Mic pre/EQ
Bel BD80 Delay
BSS DPR 402 Stereo Compressor/De-esser
Ensoniq DP4
Roland Dimension D
TC Electronics M 5000
TC Electronics M 3000
Lexicon PCM 91
Monitors
Yamaha NS-10
Genelec 1031
Dynaudio BM15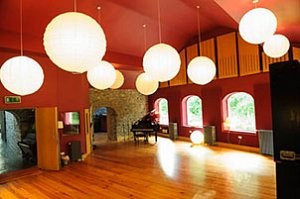 Grouse Lodge
Facilities
Grouse Lodge is one of Irelands foremost recording studios, hosting major international acts including Michael Jackson, Manic Street Preachers, Paulo Nutini and Dame Shirley Bassey to name only a few. It comprises of 2 separate studios, each fully equipped with the finest equipment.
Studio 1
Studio One is equipped with a Neve VR60 console with Flying Faders/ Total Recall, (40in- 40out); 24 Track Analogue; Pro-Tools HD Core System; 5.1 Surround Monitoring by Dynaudio Acoustics.
Studio 2
Studio Two includes Neve Veries 36 channel console, Protools HD3 Accel (24in-16out Analog) Control24, Apple Mac Pro and superb AV Facilities.
Mixing Suite
Hardware
The Mixing suite is equipped with a Soundcraft 1600 Series Console, a powerful Mac Mini and a huge array of software, plugins and hardware synthesisers. ALso featuring Avid HD Native, Avid 96 i/o X3 & Avid Sync i/o. Fitted out with Genelec 1030A Monitors & Genelec 1092A Sub for all your monitoring purposes.
Music Technology Labs
Individual Student Workstations
Each student is equipped with a high end Apple iMac workstation equipped with the latest industry standard software including Ableton Live, Logic Pro and Protools.